5:15 PM, Nov 23, 2004

tagged with
dotw
Hidatakayama Weizen
Okay, I know I said that it would be rare, but I now have four more DOTW entries for you, this time submitted by mister Joel Z Johnson, on assignment in Shibuya, Tokyo, Japan. He sought out the number one-rated beer bar in the entire Tokyo area, according to Beerfly, a segment available on
BeerAdvocate
, and enjoyed himself into a bunch of DOTWs. All that follows was written by Joel.
-b
---
Just off the Ryogoku stop on JR Line was the top-rated Tokyo beer pub according to Beerfly: Bakusyu Club POPEYE, featuring one of the city's largest collection of draught and Japanese craft beers, including a rotating selection of three hand-pumped cask beers. After an hour's worth of wrong turns on the subway(one leading me off my map, which was a little troubling), I found my way to Popeye and plopped down ready to sample as many new Japanese draft beers as possible. While Popeye has a very nice selection of "World Beers," including Rogue Ale, Hair of the Dog, and Hoegaarden, it seemed a waste to travel half-way around the world only to drink beers I'd already had before (and I had been drinking Hoegaarden quite a bit the previous nights, truth be told, as it was very common).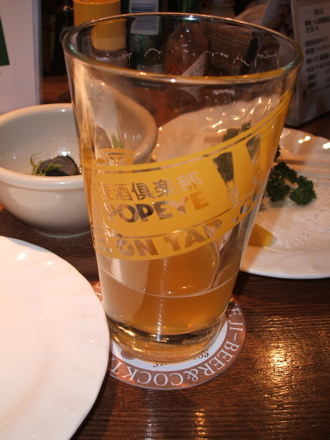 My first selection was the Hidatakayama Weizen, a beer that was brewed in Gifu Ken, which I can only presume is a city or province in Japan. Although it wasn't cheap(935 yen (about $9) for a pint). I had wisely landed during happy hour, where each beer is served with a selection of dishes from the 'O'Tsukare Sama' set. Not wanting to fall too far off the boat, I selected the fried chicken, all three small pieces of which were quickly served (and were delicious).
Popeye provides and English menu for those not able to order in Japanese, and the waiter was quick to scratch off the selections that were outdated. Polite, but it also made me wonder how often gaijin find their way to the place, as it's not exactly on the beaten tourist path.
The Fujizakura Weizen was solid, if predictable, with typical banana notes and a cloudy color. As you can see from the picture, I had forgotten that a DOTW entailed taking a picture of the brew in
question until it was almost too late. Suffice it to say that the Fujizakura, while a very pleasant beer in general, tasted typically unrounded(something I find all too common with Weizen, and part of the reason for their disregard by some). It did not taste, if you were wondering, the least bit 'Japanese.' It could have come from a bottle with a Brooklyn label and I would have been none the weizen (oh ho ho).
Ratings (out of ten):
Flavor: 7 (Pleasant, with banana and light spice)
Body: 6 (Typical of weizens, with little head)
Aroma: 7 (Strong wheast smells but almost zero hops)
Smoothness: 5 (Very drinkable, but nothing remarkable)
Price: 6 (A fair price for Tokyo, but still expensive)